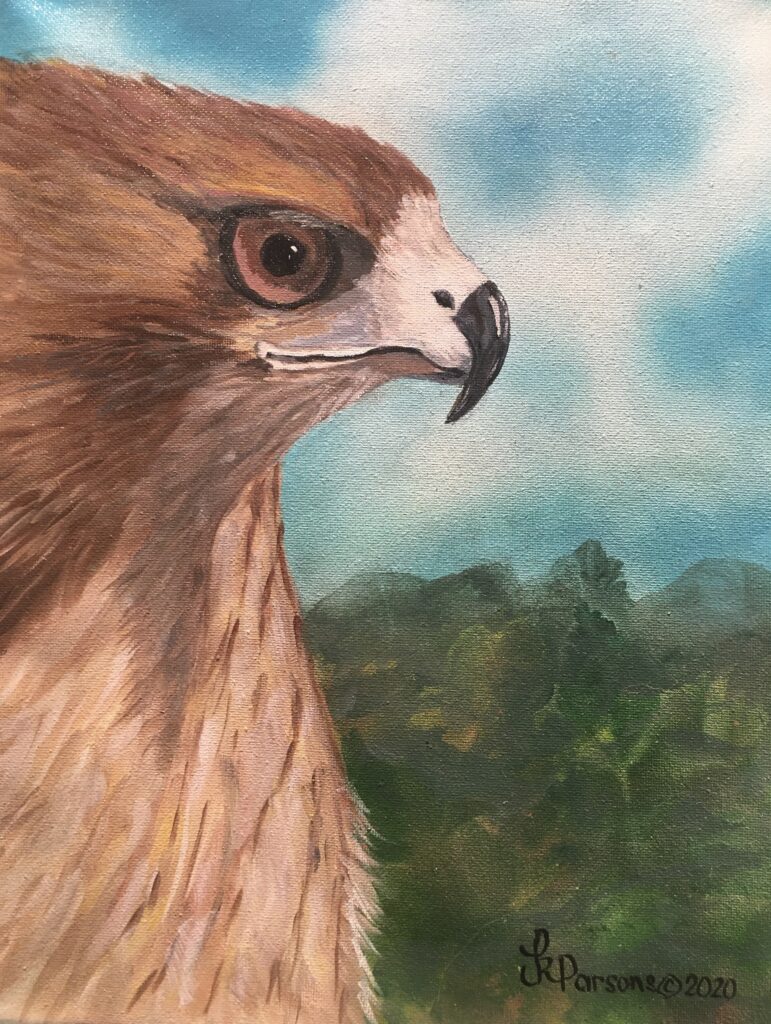 I am often asked how long it takes to paint a painting.
Sometimes there are years involved in creating a painting. I did a painting of Red tailed Hawk named Dragon, but I had to get to know him first. 
It took 3 years of observation.
He was shot by a hunter , and it destroyed his wing, so he is no longer able to fly. If you can't fly as a Hawk , you are unable to hunt for food.
He is upset at every one and  very grumpy and it takes a long time for him to trust anyone. 
He once put his talon in my son's hand, when he broke his jesses and often screams at you!
Painting Dragon  took many hours of being able to get near, so I could actually capture his personality. He is an older Hawk and has grayish feathers from aging.
Dragon has a tough story. Not only was he shot,and left unable to fly, He was stolen from his enclosure and released into the wild as a joke and nearly died having no way to hunt, since he can't fly.
His handler finally found him after nearly a month of searching the forest. The other Hawk that stolen was blind and never recovered.
His handler that he trusted, passed away, and Dragon hasn't been the same since. The photo references I used were photos that the deceased handler had taken, and a man that was incredibly dear to many, and his sudden death a  tremendous loss to hundreds of humans and animals, including Dragon.
This was a memorial painting in honor of the great man and dearly loved college professor, David Sagan, who was his handler.
I sent progress photos to three of his previous handlers all the way through the process, until I finally captured Dragon's facial expressions.
Within the painting are clouds that form the shape of a Hawk flying. Dragon's greatest desire to fly freely once again.